Business Continuity Management
Developing Your Prevention and Recovery Strategy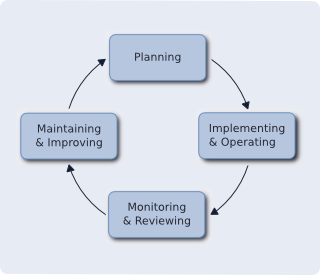 Well-Equipped for the Worst Case
In today's digital world, "no systems" means "no business": most industries are more dependent on IT services than ever before. At the same time, the number and severity of risks the IT is exposed to is constantly growing.
To be well-equipped for the worst case, a successful Business Continuity Management (BCM) strategy is essential. It gives you the necessary controls to address risks and monitor and measure your processes for the management of and recovery from disruptions.
To provide organizations with a standardized approach, BCM standards have been put into place. Based on these recommendations, plan42 helps you develop a Business Continuity Management strategy suited to your critical activities, threats and risks, as well as your overall risk appetite.
1 Planning
In the initial step of the project, we help you determine your scope, objectives, and all other requirements regarding your BCM strategy. These decisions are documented in your BCM policy, which the following activities are based on.
2 Implementing & Operating
We help you determine the impact of disruptions of critical business activities and the risks they are subject to. This forms the basis for a risk treatment plan defining appropriate responses. Besides, we assist you in deriving to-dos and allocating resources.
3 Monitoring & Reviewing
This phase ensures that independent BCM reviews are conducted at regular intervals to verify your strategy is in line with your policy and objectives. In addition, management reviews ensure your strategy's adequacy and effectiveness.
4 Maintaining & Improving
Monitoring and review results may show room for improvements. We help you take the right action and select suitable corrective and preventive controls to optimize the effectiveness of your BCM strategy.
And what can we do for you?
Would you like to learn more about our services regarding Business Continuity Management? Please feel free to contact us.